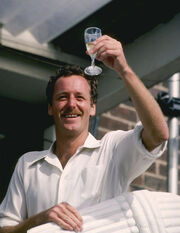 Jeremy Vernon Coney MBE (born 21 June 1952 in Wellington) was a New Zealand cricketer, who played 52 Test matches and 88 ODIs for New Zealand, captaining them in 15 Tests and 25 ODIs. He was one of New Zealand's most successful batsmen, at least by average, and he made 16 fifties, but centuries often eluded him and he had to wait nine years to make his first - by that time, he had turned 31. He only lost one Test series as captain, against Pakistan away, and he became Wisden Cricketer of the Year in 1984.
Coney was the captain who in 1986, after the England wicketkeeper Bruce French was injured by a Hadlee bouncer, allowed Bob Taylor to leave the sponsor's tent and play as a substitute. It was one of the great sporting gestures of all time. New Zealand won that series with the bowling of Richard Hadlee only slightly more potent than the captaincy of Coney. His medium-pace bowling was often used in ODIs, where it yielded 54 wickets, including four for 46 against Sri Lanka in 1985.
He now lives in the UK and works as a commentator/ summariser for Sky TV and Test Match Special.
Template:Start box |- style="text-align: center;" |- style="text-align:center;" |width="30%" align="center" rowspan="1"|Preceded by
Geoff Howarth |width="40%" style="text-align: center;" rowspan="1"|New Zealand national cricket captain
1984/85-1986/7 |width="30%" align="center" rowspan="1"| Succeeded by
Jeff Crowe |- Template:End box Template:New Zealand Squad 1979 Cricket World Cup Template:New Zealand Squad 1983 Cricket World Cup
Community content is available under
CC-BY-SA
unless otherwise noted.